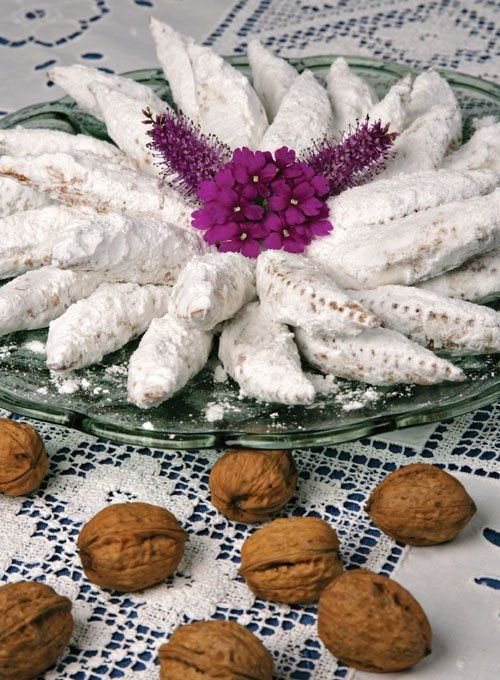 Anna Delatolla's recipe
The famous little fish don't swim in the sea… they are sweet stuffed pancakes which are offered in Christmas during weddings and christenings.
INGREDIENTS FOR 45 LITTLE FISH
For the stuffing: • 1 cup of water • ½ cup of sugar • ½ cup of honey • 2 cups
of chopped walnut kernel • 1 cup of chopped rusk or toast • 1 teaspoon of cinnamon
• teaspoon of chopped of clove • The zest of 1 big orange • 1/2kg of powdered sugar for the wrapping.
For the crust: • 500gr of flour of all uses • 1 egg • 3tbsp of oil • Some salt
• 2/3 cups of water or orange juice • 1 shot of raki
PREPARATION
Put the water, honey and sugar to start boiling. Move away from the fire and let the mixture get cold. Add the walnut kernel, the rusk, the orange zest and the seasonings in the syrup. Mix the ingredients with a spoon so as to blend very well and let them for 6-8 hours. Prepare the dough as follows:
Put the flour in a bowl and add the egg, the oil and the salt and stir. hrow slowly the water so as the dough to become pliable and not sticky. Leave it for half an hour, divide in small dough balls and open a thin crust. Cut in strips of 15cm wide. Along the crust strip, put –one by one- spoonful of stuffing, around 10cm the one away from the other and fold the crust so as to cover the stuffing. Cut in the shape of a thin fish. Let the fish on a cotton towel until all of them are done and cover them so as not to dry. Pour the oil in a pot and once it is hot, dip the fish, turn them over from both sides and place them in an absorbent paper. Once cold, dip them in powdered sugar If you don't want to eat them straightaway, you can skip the powdered sugar. This is something you do when you are about to serve them, in order to look nice.
Special thanks to ms. Nikoletta Delatola-Foskolou for the tasteful recipes