Strong winds, waterless soil and somewhere among the round granite boulders of Tinos – a bizarre island – you notice it.
"The vineyard that talks" and now…it speaks loudly all over the world.
Having produced 20.000 bottles per year with a potential to reach shortly 30.000 bottles and many international articles, the time is ripe for the « Tiniaki Ampelones» have gained the position richly deserved in the worldwide wine community.
However, it's not as easy as it seems, especially behind the final production, there are granite boulders and a team of professionals with a vision that had seen something more at the place where everybody else just watches.
Some years ago in a unique terroir, Alexandre Avatangelos with Gerard Margeon dreamt of vineyards springing up. The oenologist Thanos Fakorelis undertook, through his knowledge and experience, the task of pairing the varieties and tastes with a peculiarity of the local environment to set up a vineyard capable of producing the best Greek wine.
The initial planting of the vineyard took place in 2002, while the production began six years later. Two years, after the first bottling, were enough for the wines of «Tiniaki Ampelones», to be introduced in the wine list of Alain Ducasse's famous restaurants, one more proof of their uniqueness .
T-oinos wines are derived from four vineyards of a total planted area of 13 hectares, on a sandy soil with granite bedrock, located on the outskirts of Falatados village, in Stegasta and Rassonas. The white grape varieties hosted are Malagouzia and Asyrtiko, while the red ones are Mavrotragano and Avgoustiatis.
The goal of everybody enmeshed in T-oinos wines is ti highlight the dynamics of each variety through the terroir in the best possible way with emphasis in freshness, mineral aromas and durability.
So, there is one more reason to visit Tinos island this summer and unfold its mysteries through «Tiniaki Ampelones». Don't forget to meet Aris- the caretaker of the grounds- wagging its tail….Welcome!
Are you wine lovers? Find more in www.toinos.gr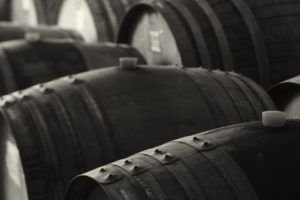 The Team
Ιt was  the people`s determination and persistence that made the dream come true
Stéphane Derenoncourt,
the internationally renowned oenologist, and his partners have led , since 2016, the « Tiniaki Ampelones» team both in the vineyard and in the winery.
Michael Tzanoulinos
vineyard manager, who has been in the vineyard from the very first day, will greet you and share his love for the vineyard.
Eleni Alevra,
winery manager, will greet you in the winery and will explain the uniqueness of these wines which makes them so special.