Martha and Kely Hatzigianni, the twin sisters from Tinos, developed the company Verve Juices! It's the first cold press juicery and juice cleansing company in Greece. They produce nutritious premium juices and complete cleaning programs. They don't live permanently in Tinos, but they visit the island in every instance.
.
.
.

Unfortunately , it isn't possible for us to come to the island as often as we'd like to. But we visit it in every occasion. We try to spend our summers here, at least two weeks with our families. Easter season is another opportunity for us to visit our favorite island. Long ago, when we didn't have our own families, we used to spend a lot of time with our parents in Tinos, and we continue doing it with our own children. Our house, here in Tinos, is full of memories from the past and of positive energy for the future.
VERVE in Tinos?
In the last 3 years, the island is growing in tourism very fast. Brand new shops have opened and small but very beautiful hotels that harmonize with the landscape. We happily discover studio yoga and pilates or wellbeing places. So, there is a new prospect for new business proposals on the island.
The creation of a VERVE  shop would be a bit difficult in the near future because of the short touristic season. We'd surely like to see VERVE JUICES in Tinos this summer, apart from our home, of course.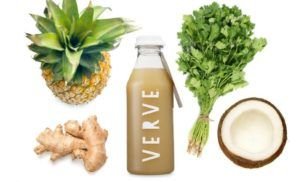 VERVE stands for Vitality Energy Reset Vigor Enthusiasm. And that's  our mission! We started VERVE up to 2 years ago with the aim to offer convenient healthy programs that fit easily into our busy lifestyle.
VERVE are full of nutrient-dense nourishment and natural superfood ingredients that help boost our energy levels, immunity boost, make our skin glow. Our Juices are fresh, 100% natural and freshly pressed on-site. We never add preservatives, sugar, concentrates, dairy or processed ingredients. It's what we leave out that makes our juices so unique. We also ensure that our juices unpasteurized.
VERVE also offers 3 detoxification programs,  that have been carefully studied and designed by the Nutritional Therapist & Metabolic Balance coach of London Nutrition Clinic, Lisa Blair. Our programs help your body cleanse, release toxins and shape up in a healthy and natural way. Make time to replenish, reboot and reset your system.
You can find VERVE JUICES in selected stores in Athens and our website www.vervejuices.gr we deliver them to your door across the whole country.