An open air folk sculpture museum
Most of the times, the passer-by is repelled due to its showy rambling. A thundering kitsch at the gap of the Ysternia windmills, just like the person who lied behind the "exploitation" of the space. Yet, at that period of time – in mid-50's – when the marble lintels were leaving without problem to Athens, Georgios Kardamitsis (known as Giorgaros), a Gendarmerie retired officer, joined dormers from all over Tinos and embedded them to the church of Aghios Athanasios as well as to the adjacent buildings. Every cloud has a silver lining! The icons had the same fate. The little church was full of icons which no one knows where they have come from!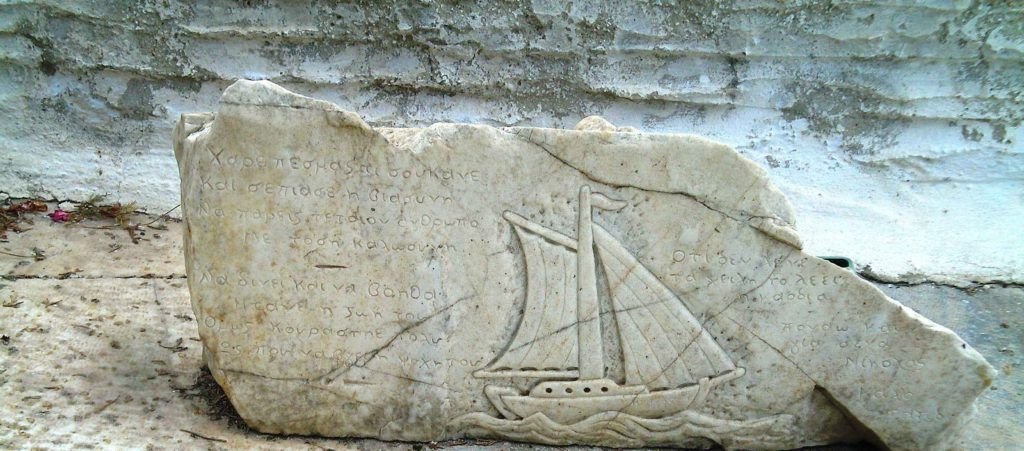 Nevertheless, in this way some truly rare pieces of our folk stone sculpture are still standing, such as the "Pentagram", the sole real pentagram which one can find in Tinos! We usually call pentagrams the six-point stars. The six-point star, David's star is Bible-originated while the pentagram is related to occultism, in other words it is of exceptionally deterrent character. Still, the first one is easily made – with a type of compass (koumpaso) and based on its radius, the circle is separated in six accurate parts – while the second one requires a "construction" so as to be divided in five.
Additionally, the marble decoration of the temple façade is of excellent art work, made by the Ysternian marble sculptor Iacovos G. Vidalis (or Mavrakis).
Inside the church, one can admire rare moments of the Tinian marble sculpture along with a magnificent epitaph relief signed by Iacovos Malakate, one of the patriarchs of the Tinian marble crafts. So, it's worth having a stop…