Tinos is my mother's motherland. She was born and raised there and so did her parents and her grandparents.
As a result many of my relatives live permanently in the island. So, from a very young age,  i spent half the time of my holidays in Tinos and half in Crete, my father's homeland.
   I remember that I was looking forward to going to Tinos in summer, because I felt free! I used to spend the whole day with my cousins at the beach, have dinner at my grandmother's epic balcony with the breathtaking view… The whole family assembled there, in the evening-uncles, aunts, brothers and sisters, cousins- in order to share our news having, at the same time, our ouzo with "meze"…. And when no one was looking, we- the younger ones- slipped out for our nocturnal walks! We started our usual promenade in Chora and we ended up in " Koursaros" or in " Kaktos". Most of the times we watched the sunrise and then we went back home…
    My most vivid memory, though, isn't a summertime one. In October 2015, I was in Tinos doing some things at home. It was hot, hotter than it is in August, the sea was sparkling, no wind and my cousin Stratis asked me to go fishing squids. We got in the sea, at three o'clock in the afternoon, we caught some squids-yes, as a beginner I was lucky enough to catch squids on my own- and we went on boat to Dino's , in Yannaki Bay, where we had our fresh catch fried! We went back at 11.30 p.m. and, of course, this experience is very intense to me!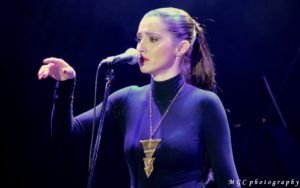 My mother's family home is in Chora and we recently renovated it. I can boast that I worked a lot remaking some old furniture, which is one of my favorite pastimes! During the renovation. I went very often to the island, even at times I didn't use to, for example in winter or in autumn. Well, then I saw something I had only imagined of: Tinos is very lively all year round! So, I promised to myself to go there more often. I do my best! But it's never enough!
   There are a lot of things that I love in the island… I'm fond of the dovecotes, the beaches… I love the villages of Tinos, which are full of surprises! But my favorite one is Pyrgos, my grandmother's homeland! Art everywhere and artistic quality! I'm keen on the seaside restaurants, which get better and better in order to satisfy the most demanding visitors. And of course I couldn't omit the imposing church of Virgin Mary of Tinos, the monasteries and the chapels of the island! Tinos is blessed and a very intense place regarding to its energy and art!
   The visitor who comes for the first time in Tinos should wander a lot in the mainland and he will come across small miracles… Beaches are magnificent and the villages are the most beautiful in Cyclades! And don't miss to taste the local specialities. It seems to me that our island fills sensitive people with with wonder. Those people have Tinos in their heart and they surely come back!