A Sea Of Memories
A journey from Athens to Panormos and a narrative story from yesterday to today, through the eyes and heart of Nikolas Saltamanikas.
They surely have something to say, those who showed what the traditional island gastronomy means.
The main characters of this story our are Marie and Agis and our conversation was about the glorious restaurant they used to have in Panormos: Aghia Thalassa. I still remember the handmade sign, the fountain that decorated the shop, the sophisticated platters, the menu, the music, the old bottles…From all over the world they came to Panormos for the restaurant, but they came more for the owners themselves. You see, Aghia Thalassa was a restaurant that offered the ultimate Greek gourmet, the one that you needn't to look at the plate and compare it with those on Instagram or Facebook…They always chose the local production and local fish. If they had fresh fish, they gave. If they had fresh tomatoes or "Horta", they would give, without showing small vegetable gardens in small meadows. If they did not, they didn't give. Without participating in Greek gastronomy awards and without offering complementary meals in exchange for a posting in the social medias…They simply had their own distinctive imprint.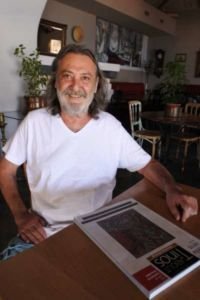 -What were your first steps before the big leap on the island?
A: My first steps in food service where are made in combination with my studies in tourism in the Hilton hotel and then in Iridanos and Mets, along with Marie.
M: The Mets was the ultimate school for me, a well-tuned machine. I was in service and Agis in the bar.
-When did you first get to the island and how was the idea for Aghia Thalassa born?
M: Long before 1993, when the restaurant opened, being a couple in life I got Agis on the island and he loved it. The roots of my stepfather, who came from Ysternia, led me to swim in its cove and then to eat at the tavern of Rompos (known today as Thalassaki). Our wish was to set up a business idea in order to stay permanently on the island. Then the owner suggested to take over the existing shop, that was in decline. We rented the property but the renting wasn't renewed the second year, so we had to look for something new.
-Was there any response from the locals and the foreigners in Ysternia?
M: From the first day of operation the restaurant showed its potentials. A wave of quality people from the field of arts and business was among the regulars, together of course, with locals.
-And after the disappointment in Ysternia, what?
M: Looking for our new place, we reached Panormos, an ideal location to continue our dreams. There, we entered among already rigged businesses, without though competing with them, like Markos' Tavern, or Vasile's and Georgy's (now Marina).
-What were you confronted with in your opening?
A: Hesitation, prejudice and then love, companionship, good relations. Even my relationship with Marie got better.
M: I did not expect to find conditions of tragic decline of coaches, the so-called abjection of the contracting of pilgrims, which still exists today and unfortunately mutilates the place.
-What did you want to give to the place through your activity?
A: The first "shock" for the locals was what they saw to us. They saw me on the service and Agis in the kitchen. Having rejected the label that the strangers came to the island to make money, we moved forward dynamically and purely from the very first moment. We didn't have the philosophy of fast food, like "3 fish in the portion" or moussaka and stuffed vegetables. The midnight cooking and the philosophy that the food is ready from very early, waiting to be consumed, was not what we wanted.
A: For quite a few summers our friends, Marie and I sailed to several islands and wrote down what we liked and what we didn't. When we came back with Marie I had ended up that I wanted: quality and taste through the raw material that the place produce. Fresh fish from the local fishermen. Vegetables from the grocers of Kaloni. I even picked up artichokes on my own from a friend'd field. So simple and beautiful. I used to fill my forty different bottles, I had collected from Monastiraki, with raki. My favorite music: in the morning classical or jazz and popular music in the evening. However, Marie's severity is the one which captured the identity of the shop.
M: Agis had such good relations with our customers, that he knew what they used to eat and he sought for it, without their knowing about, in order to thank them.
-What was the identity of your cuisine? How close it was with the philosophy of the place?
A: Our cuisine was Greek. Basically fresh fish and salads. I was late to insert the lobster spaghetti, for example, in our menu because only the head of the lobster gives the wonderful broth that makes the sauce and the spaghetti delicious. That's why I cooked it in a unique way.
M: It is one of Agi's characteristics to create his own flavors for traditional dishes. For example when we had a wild rabbit, but not a second one, and he could get 4 to 5 portions, he didn't use to make a rabbit stew. He made it with lemon and sage sauce.
-What is your opinion about the supposedly reserved tables?
A: We had a completely different philosophy. When there was an empty table I gave it to the man who asked for it first.
M: I believe that it is not the right way to give value to our shop.
-Is the customer always right?
M: The customer is not always right. In our profession we have the know-how. Our goal was to make our customers happy in order to come back again. Not just satisfied in the typical sense. Agi's once cooked holding at the same time two baby customers and their families loved us not only for the quality but also for our humanity.
-What kind of people did they come to the restaurant?
A: Locals as well as people of letters and arts from all over the world. "Madame Sousou" known as Anna Panagiotopoulou, who was a good friend as well, well-known ship owners, my dear Fyntanidis with Virginia, who called me one day and gave me a wonderful design series of dishes. Papahelas was there every summer because of an oblation, and Venizelos would eat the whole jar of spoon sweet that my mother made.
M: Mr Martinos, whose house was in Tinos, Ploutarhos who is a very kind and modest man. Kostas Karamanlis, the current president Prokopis Pavlopoulos, Konstantopoulos, who was very strict, Anna Fonsou who comes from Tinos, dearly departed Maronitis, unique Kastoriades, and many others, and of course you, that we argued a lot with…
-What did the press write for you? How did you use to leave without social media?
M&A: Back then, when social media did not exist, you only found publications in the newspapers. Of all the customers, those who would be interested in writing a review were the ones who had a complaint, while those who were satisfied would never bother judging.
A: At that time we drank a lot of raki and time went by nicely and purely. The restaurant has never come to a standstill. Without social media and posts, our restaurant made its own history.  After all, see the shops back then and the shops of today. In 2019 there is no restaurant in Tinos like Aghia Thalassa.
-And what is going on in Tinos now? Do you eat well? What do you think of the prizes? Are they good for the island? Do they lead people rightly to the shops?
A:Generally in Tinos you eat well and qualitatively. I don't approve of the fashion of awards organized by Greek businessmen. There is a participation fee, a subjective view and they often obscure mistakes, bad service and quality. No one can judge whether the shop deserves a prize by tasting 1-2 dishes. Also many owners host in their kitchen a TV-chef for a fee (because all of them do not go anywhere without money) which is now fashionable. What could he say and why would he advise or even recommend a restaurant if he has no benefits?
M: This is how the overrated philosophy is born in some shops and it is unfair to some who deserves and unfortunately do not have the proper public relations to be glorified in minimum time. It's a big mistake that they make somebody an entrepreneur in food service just by paying enough money. Besides the entrepreneurs themselves in the award projects show how much it costs to participate.
-Is there anything you didn't or you don't like in Tinos?
M&A: We will never be able to see any drawbacks on the island, even if there are, because locals loved us and supported us all over our journey.
-In the field of restaurants which ones do you select on the island?
M&A: "Beeee", our wonderful friend Dimitris Skoutaris, Gion with Tarsana and many others.
Epilogue
It was personal reasons that led them to abandon the successful Aghia Thalassa. Marie returned to Athens somewhere in Faliro. She chose not to work in food service anymore and she couldn't as the one completed the other. She was happy in Tinos and she wanted to share it with others. Agis, on the other hand, with his companion Maritsa worked again in the food service in the wonderful Galaxidi. The restaurant "Maritsa" is visited by hundreds of friends, Tinians as well as traditional customers of Aghia Thalassa, that followed Agis in his new activity.