The Local products of Tinos
Lead: The island of Cyclades, famous for its remarkable and rich local production, is an ideal destination for those who seek for local taste "treasures".
Island with gastronomic identity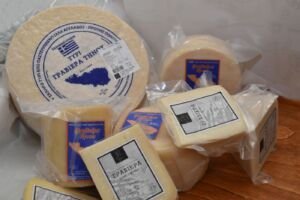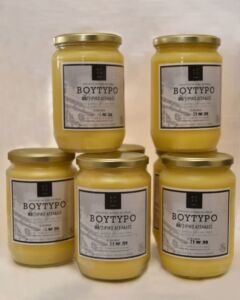 "A dish hot or cold. One bite, small or large. The taste. Food, one of the most basic and most beautiful ways to get to know a place. Our culinary civilization is everywhere. In the sea and in our fields. In our homes and in the backyards. In the basements. In the cellars. In the goods that local people hold in their hands and in their souls". The central idea of the successful institution "Tinos Food Paths" is in essence the philosophy of Tinian gastronomy based on local culinary richness. The gastronomic tinian culture is rich in raw materials, traditional flavors, modern recipes and warm hospitality.
An autonomous and self-sufficient island, which lived with what it possessed and which was supported around the 1960 on the exchange of products among the residents, Tinos marries the past with the present, utilizes recipes from previous generations and draws new dishes always based on local ingredients.
Taste orientation
Visitors can taste − even on a visit to producers and celebrations of local products − what nature offers generously: from the savory appetizers for wine, raki and beer and the original pies to the elaborate delicacies and local sweets.
Caper: Kept all year in brine or dried out. The big buds of the caper are fried with batter. Along with fennel it is used a lot in salads and steamed mussels and in the preparation of the traditional octopus sauce.
Kritamos (samphire): Gathered from the rocks near the sea, it becomes pickled for salads.
Fennel: It is used as basic material in marathokeftedes and fennel pancakes. Dry fennel is added to the roast lamb, sausages and louza.
Louza: It is produced by the pork boneless steak. It remains for 2 to 3 days in salt, then in red sweet sun-dried wine and then it is sprinkled with spices, mainly fennel and oregano. It is allowed to mature, from two weeks to a month, and then cut into thin slices. It is usually offered along with the local rusks with olive oil.
Sausage: It is pork with garlic– the well-known "Salsisi" that was left on the island by the Venetians − and it is eaten raw. It is made with tomatoes in the Catholic villages.
Sun-dried tomatoes: They open them horizontally, they add enough coarse salt and they place them in the sun during August to dry. They also fry them with batter, mix them with "Tyraki", make tomato paste or add them to sauce on pork or veal. The ones grown in a field are very sweet.
Artichoke: The number one agricultural product of the island, which is even exported. It is the basis for many dishes of the island: grilled, a la polita, sour pickles, fried in batter or in pita and in combination with legumes or meat.
With a long history in cheese making
Tinos produces excellent dairy products. They stand out for their taste and aroma and are used in cooking and pastry, "taking off" traditional recipes and "tampered" dishes.
For cheese lovers and not only
Gruyere: It is the evolution of the old "boiled cheese" of the island. With a slightly salty, spicy and buttery flavour, it adds taste to pies, pizzas, pastas and it is served as grilled cheese, too.
Kopanisti : "Soft cheese stronger and more spicy than aged Roquefort or Zeromé". This is how the Tinnian medical philosopher Markakis Zalonis described "Kopanisti" in 1809, in his work "Journey to Tinos". The fermented soft salty cheese, with a strong spicy flavour, accompanies ideally raki, tsipouro, ouzo, wine and beer. Tinian "Kopanisti" has been officially recognized as a product of designation of origin.
Myzithra: Traditional soft cheese with a sweet taste, which looks very much like Anthotyro. With a small salt and fat content, it is a healthy nutritional choice and accompanies wonderful fruits, white wines and local honey.
"Tyraki": With a soft taste, it is considered a typical cheese of the island. As it is salted, it can be used instead of feta in salads and pies.
Fresh butter: aromatic, it gives excellent taste in foods and sweets, especially in syrup deserts.
Cooking Butter: solid butter (with a fat content of 95%), it is an excellent choice for cooking and pastry.
Milk: It is the only milk of the day that is marketed in Tinos and it is available only in shops on the island. It is collected in the morning and within a few hours it is offered to consumers.
Petroma : It took its name from the way it was drained. The fresh cheese is pressed with stone until its fluids are gone. It is the basis for the production of other local cheeses and it is used in salads and in the traditional sweet Easter cheese pies.
Volaki : Based on the cheese Petroma. When it is ready, it is crumbled, salted and moulded into small balls. Then, it is placed in cheese clothes and hang in external shady spaces to drain and dry. Fresh, it tastes like mozzarella with herb aroma and buttery flavour. The ripe "Volaki" is hard with spicy flavour and looks like parmesan. It is served neat, with fruit or honey and grated in pasta and pies.
Malathuni or Sklavotyri: Its taste is very similar to "Volaki" and it is another cheese based on "Petroma". It is produced with the classic procedure of placing in the basket.
Kariki: It is the blue Tinian cheese, which was exclusively domestically produced in the past. Its production takes time and the yeast gives it a taste reminiscent of Roquefort.
Box: In the beginning was the Agricultural Cooperative of Tinos
An important and essential role in the best possible use of local products was played in the past and continues to be played today by the "Agricultural Cooperative of Tinos", founded as "Union of Agricultural Cooperatives" in 1951 and numbers now more than 600 members. The modern cheese factory, which has been operating since 1981, processes more than 1,000 tons of milk annually and produces fine cheeses, butter and milk, which are then marketed.