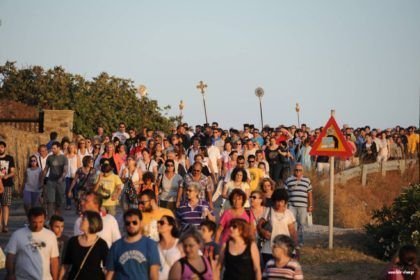 It's something that people used to do in cold winter evenings. Today, it still exists, adapted to the modern way of life.
Τhe family who planned to participate to a Vengera, would prepare earlier a lamp with oil and wick. This was the necessary lighting for the route.
After the family dinner, the father would give the signal of departure. The mother would light the lamp and off they went. On the way, the youngest child would hold the lamp and go ahead. The couple and the other family members would follow.
After their arrival, the children would play all together. When they got tired, they would sit near the grandmother and listen with great pleasure the tales she would tell. The adults would sit by the table to taste the delicacies prepared. The Vengera would last until 11 o'clock at night. Then the guests would light the lamp again, thank the hosts and return back home.