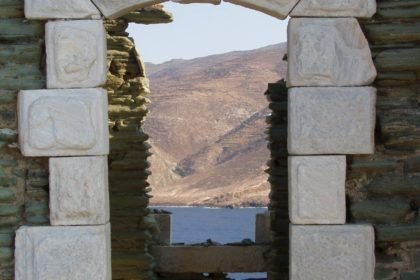 Demetris Hatzis and
Rabella Gre
Rabella and Demetris live and work in Tinos. Demetris was born and raised in Pyrgos. Having graduated from high school, he went to Athens where he studied Marine Engineering. Years later, he came back to the island, he met Rabella and since then they live together. They have two children and they permanently live in Panormos.
Demetris shadowed Kostas Alexopoulos and he is the third generation of metal smiths dating back to 1910. He loved this art and decided to keep the traditional forge using the same old techniques. His creations are both functional and artistic. Some categories of handmade products he has made over the years are: locks, metal fences, metal beds, lamps, candelabras, metal tools etc.
"When people visit the forge….they get excited! They don't believe that there's a workshop like this in Pyrgos. Handmade objects are of greater value. It feels like old times".
Rabella works for the family business "Panormos Rental Apartements". She has got involved in photography for many years, on a regular basis. "Working in an island has advantages and disadvantages. Time often passes unbearably slowly and that's the reason why I tried to find different creative pastimes. Photography helped me see the world in a different way and catch the sight of things I wouldn't even notice". When these lines were being written, she was preparing her exhibition in the island. She hasn't decided yet if it is going to last until summer…we hope you'll be lucky enough to see her remarkable photographs.
"Winter passes peacefully in Panormos. We have really few things to do this time of year but there is plenty of time for us to be occupied with creative pastimes".
Although winter is a hard season for them, they don't show any preference for seasons.
"Every season in the island is beautiful. If you have a nice time, it doesn't matter if it's summer or winter".
They recommend to the visitor who comes for the first time in Tinos:" You should have a car, in order to visit the island. The inland of Tinos is incredibly beautiful. The villages preserve their traditional style. The wild landscape as well as the sea make the visitor "fall in love" with Tinos.