Louvaris Construction – Technical company
A new constructions project, the first sustainable residence has just been completed in Lia, Tinos. Having adopted all green practices which gain field in constructions activity, the new residence is in total harmony with the imposing Cycladic landscape, contributing to the overall beauty of the area.
One of the main features of the house is the component bulks; the "sugary cubes" of the Cyclades which seem like melting on their ridge, are combined with the sharpness of stone of the surrounding landscape, thus forming a construction that is balanced yet prevailing. The specific bulks are separated according to their materiality. In other words, each bulk is made of a specific material, such as stone, grout etc. the difference is obvious so as for every material to be discernible.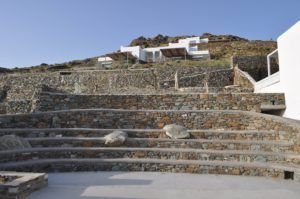 Responsible for the project is Louvaris Constructions –Technical company, which has followed all modern methods and measures that ecology and sustainability mandate. The residence has been designed based on the principles of bioclimatic architecture by the architect Aristides Dallas, resulting in zero energy consumption. High quality materials have been used in frames, insulations etc.
Additional element that contributes to its environmental friendly character is the studied orientation and consequently, the natural shading of the building. Also, an arcade that is in parallel with the building's body, forms an artificial gap between the last one and the ground. In this way, the natural ventilation of the residence is ensured while there is no humidity in spite of the fact that it is set in a seaside area.
As an integral part of the idyllic Tinian setting, the residence is a balcony to the Aegean. At the same time, with the use of natural first materials such as stone and wood, it looks like a part of the hill where is located without any exaggerations and affectations but with respect to the environment, human and traditional Cycladic architecture.