Located on the coast of Tinos and with an unhindered view of the Aegean, the three-level urban building of Ηotel in Tinos, which consists of four luxury suites with a small  pool each, is a modern touch adapted to the existing landscape.
Our desire for the building's volume to be as subtle as possible while combining all  the desired comfort inside and out led us to certain architectural choices.
Initially, the level of the first level is placed a little lower than the natural ground, so  that the building on the road side is as low   as  possible,  without  depriving the view to the sea from the first level suite.
As far as the volume of the building is concerned we aimed to the maximum disintegration of it. Two tall walls with sloped intact surfaces are separated by a wide dark vertical stripe from an asymmetrically perforated volume.
From the side of the road a wooden structure that starts from the ground rises and turns to obscure the parking spaces and continues vertically between the walls to  the rooftop.  The accession of plants on this structure also gives  an opportunity to break the total volume of the building.
The use of water and green roofs and their breakdown into smaller surfaces  contribute  to a smooth integration  into  the  natural  landscape,  while providing privacy for their use in each apartment.
The internal and external environment dialog has also been an architectural issue, which is being implemented by the continuity of the intangible tall walls inside the suites and the large windows and doors.
Also, the wooden windows and doors in dark gray are visually lost, thus highlighting the gray-brown volumes that integrate in harmony with the existing stone building ruins.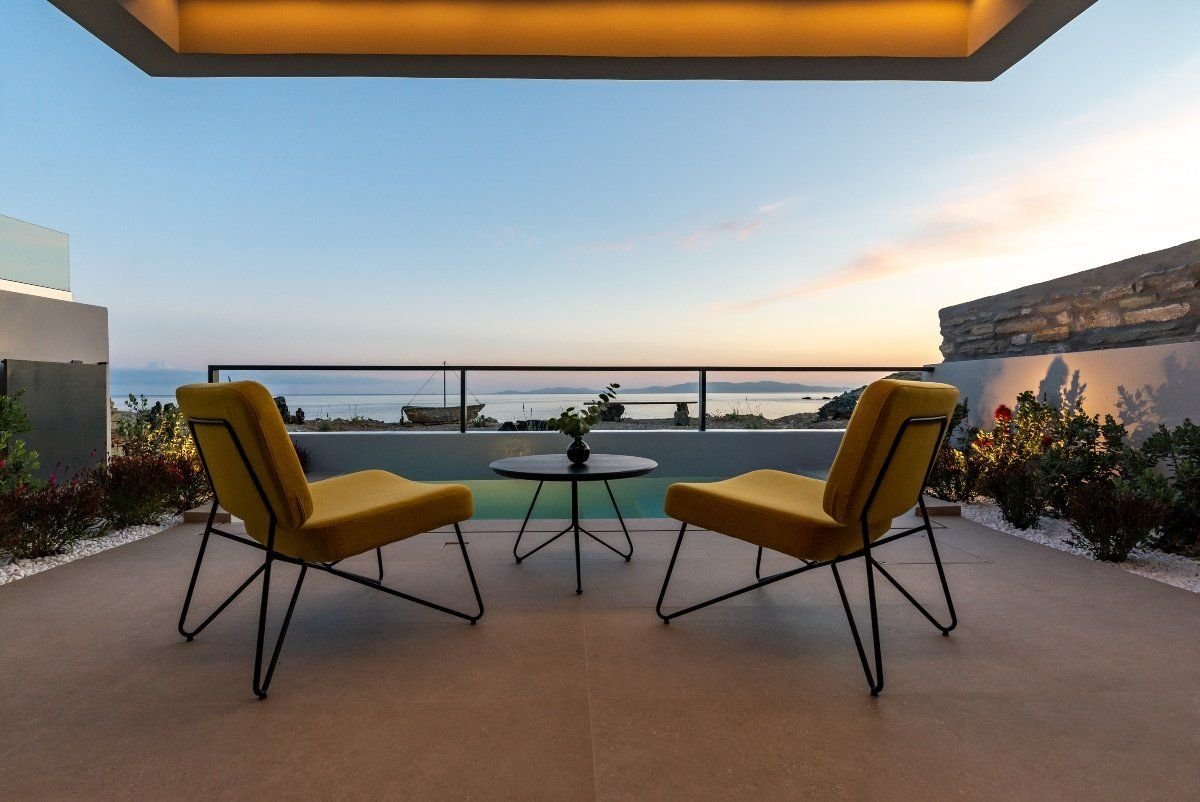 Minimalist indoor design completes the overall design.  It is based on an open plan  – sleeping area, kitchen area, ensuite bath – and appropriate materials are used in a way that highlights the modern architectural urban character of the building and simultaneously creates  a welcoming interior with all the contemporary comfort.
Lighting finally brings out the architectural design with the choice of linear light sources to highlight the tall walls and wooden construction and the illumination of the asymmetric perforated volume is a reference the star sky, while providing convenient and ambient illumination on the inside.