Whether a modern or a traditional wedding, romantic or minimal, orthodox or catholic, Tinos Island has it all, to offer you and your guests a perfect result. It's the ideal setting for a memorable wedding.
If you desire to live the experience of an island wedding, then Tinos is the perfect choice as it exhibits natural beauty with tradition, unparalleled romantic views over the Aegean and a sense of peace that emanates from the very earth.
Choose the place:
The wedding on the island of Tinos may be celebrated in different venues of distinctive taste. Choose a civil ceremony in the town hall, an orthodox or catholic service. You can select from a small cathedral, a country chapel, or even a chapel by the sea.
The changes of scenery on the island are fascinating. Sun beaches, pebbles, rocks and lunar landscapes… The charming island of  Tinos is a hidden gem with natural beauty, long history and folkloric customs relating to the wedding ceremony.
Traditional confectionery as almond cookies, honey-backed sesame sweets, fried dough honey sweets is a way of wishing the couple's life will be mostly sweet. The bride and groom are followed by a wedding procession with the folk instruments violin and lute, till they enter the church forecourt while the family, the relatives and the guests escort them.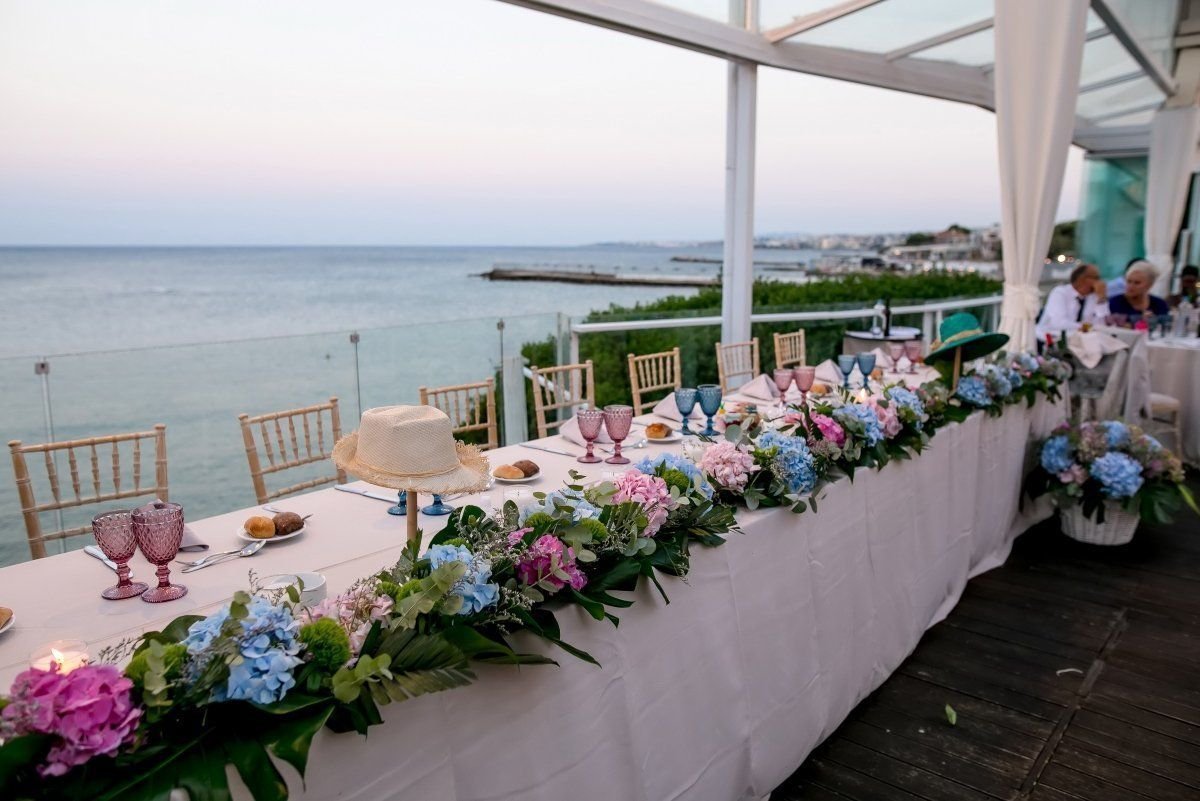 The religious ceremony follows and afterwards the merry celebration  will go on until dawn.
Who should I be oriented to?
Tinos is an authentic Greek island, far from mass tourism and at the same time you meet there those experienced professionals to organize your event: decorators, chefs, catering companies and beauty experts.
In the next few pages we will happily introduce you all these people, who are there, ready to listen to your wishes and make your dream come true.
NIKOLAS KER…
Unique creations for special moments
The wedding or the baptism of your dreams on the Cycladic island, does not need to be accompanied by stress for all the necessities you need for the big day of your life.
Nikolas Ker store, a real jewel on 28 Evangelistrias Street in Tinos, opened its doors since 2019 and offers tailor made services regarding wedding items, christening, decoration and banquet equipment.
In their new space you will find: wedding invitations & wedding favors – christening packages for godparents, christening clothes, wreaths & handmade summer gifts.
Nikolas ker (+30)21 0275 4975
HAIR PLAY MARRIAGE …
Her wedding day can be for every woman, in the "hair play" salon, dedicated to her, a gift from her to herself. Hairdressers-creators use their experience in the field of beauty and fashion, as a colorful kaleidoscope, from which thousands of enchanting images, like the ones of the future of a couple, that begins with their marriage in order to walk their journey.
Bride's hair harmonizes with the wedding dress, highlights her personal style, her characteristics and her distinctiveness. In the hair salon offering complete services in the field of beauty, they have the ability to make the bridal preparation a pleasure and really make every woman feel a protagonist in the dreamy setting of her wedding.
Listening to their suggestions, she will feel safe and will be left in the hands of experts who, with their skill and experience, will show off the special side of the personality that is appropriate to the moment and is unique and different for each bride.
Find the service of "hair play" that your hair needs and enjoy it generously..!Drosou 9, Tinos 2283 021044
ELIA
«Elia sto Vrekastro» is the ultimate place to taste the Mediterranean cuisine by the sea from early noon, to enjoy your coffee, a sweet or an ice-cream by the pool, or relax with a drink or a cosmopolitan cocktail at the pool bar , till late at night, listening to the wash of the sea on the rocks.
It's the perfect setting to host your wedding reception, the baptism of your child and create wonderful memories offering fine Mediterranean food combined with the ultimate harmony emanated from «Elia sto Vrekastro».
Info
Reservations: +30 22834 00041
Fotografos 
Two brothers, Nikos and Evelyn set up their own photo studio in Tinos for those who looking for an alternative look at their unique moments. Evelyn, as a restless spirit, studied in Athens at the Academy of Creative Photography and then continued her studies in Manchester, England.  Her photographic subjects have been published in Greek and foreign press.
35 Megaloharis Ave., Tinos
http://www.fotografos-tinos.gr/
Έβελυν: 693 83 66 718
Νίκος: 694 86 29 689
facebook : φωτογρά..φως
insta : fotografos_tinos
e-mail : fotografos-tinos@hotmail.com
To Fotografio
The idea of our photography lab started around 2000.
When I graduated from the Departement of Photography of the Technological Educational Institution of Athens and from the Institut d' Arts Visuels of Orleans, France and having a 6-year experience as a professional photographer, I came back to the island where  I come from and made my dream come true.
The «Fotografio»  is «born» in 2006 and in a short while a team of photographers and cameramen, passionate for their art, is pulled together.
Our aim is to manage, through our to camera to illustrate your important events. Your loving and emotional moments inspire us in order to keep us going.
Chrisa Paraskeva
1, Megalochari Avenue,
post code 84200, Tinos
Τ +30 22830 23620, +30 697 33 59 088
F +30 22830 23621
info@to-fotografio.gr
Exo Catering
Wedding Reception | Cocktail Party | BBQ Party
For the most special day of your life, Exo Catering take care of even the minor detail in order for everything to be in accordance with your personal taste and demands, realizing an unforgettable wedding reception which will impress your guests.
Regional road of Tinos,
842 00 Tinos
info@exo.com.gr
Τ +30 2283-022191
Michalis Amiralis
Food & Beverage Manager
+30 697 231 3316
m.mesklies@gmail.com
George Amiralis
Contact Person & Catering Manager
+30 693 660 4953