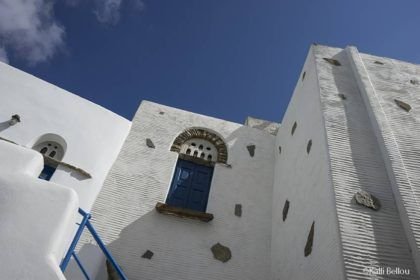 Zoom in 
Kalli Bellou is a professional photographer. She introduces herself as a lover of the insignificant and the simple thing which through her lens becomes…'something'. Theoretically she is a "stranger", she does not descend from Tinos, yet she has childhood memories of the island. Her photos depict a different Tinos, her own Tinos that has become home to her, and she wishes she could make us look at it from a different angle. Let's see…
First encounter with the photo camera:
"I began when I was around 15, when my father gave me an AGFA ISOLA 1. This 'magic box' was meant to become my companion in the entire course of my life. I changed several cameras, but my love of photography remained a standard. I could say that it grew to be a way of expression and creation".
Favourite settings for shooting:
"The first pictures come from my family and friends' circle. My conscious occupation with photography came after 1996, when as a member of the Greek Photography Union I was enchanted by the 'street scenes' from classic photographers. This was the kind of photography that attracted me at first. In the course of time I focused on the 'insignificant' ones, those that we see but neglect them: a pebble, a little 'something' that could fascinate me with its mere simplicity. Also, nature is in itself a unique source of inspiration, no matter the season of the year. I have a fancy for the autumn. As for humans, what can I say? I love capturing that glance, that facial expression appearing for just one second, that magic second!"
Influences:
"My favourite artists are numerous: photographers, painters, sculptors. I find it very hard to pick someone without being unfair to the rest. What I can say with certainty is that on top of all artists I place nature itself. The desert formations, the wrinkles on a tree trunk, the flower motifs, all of them are unique".
Greece vs. abroad:
"Travelling around the world I had a chance to marvel at beautiful landscapes from a close distance and meet extraordinary people. However, it is Greece I hold dearly in my heart. The light I see in it is without match. This light produces the shadows, makes the colours of the flowers more intense and inspires me".
Tinos:
"Tinos came in my life for the first time when I was a child, when along with my parents we went on a pilgrimage trip to 'Panaghia' (the Church of Virgin Mary). Excursions and summer holidays with friends on the island followed as years went by. Then I have no idea what happened to me: without having a good knowledge of the island, I felt that there was something seductive about it. I still feel I want to be there, learn more about it, walk around it and explore every single village and alley. I don't know…It might be its wild scenery, the wind, the marble sculptures or the fragrances.
CV:
She was born in Belgium in 1963 and has been living in Athens since 1973.
She is a self-taught photographer and has been a member of the Greek Photography Association since 1996. She deals with all kinds of classical and modern artistic photography, including the creation of digitally processed pictures.
She has taken part in numerous joint exhibitions around Greece, as well as one in Barcelona, while she has presented two individual exhibitions in Athens and one in Santorini.
Works of hers have been published in VIMAgazino (2006, mission in Iran) and in Metro Ticket magazine (2005, travel photography from Greece).
Her works have decorated the cover pages of the following books from 'Estia' Publications:
"Unsure love" Sigmund  Bauman – 2006
"The teaching of religion at the religiously impartial school" Regis Debray – 2004
"The first move" Savvas Pavlou – 2004
Site: www.kallistigmi.gr
E-mail: kalli@kallistigmi.gr
Facebook: Kalli Bellou Photography