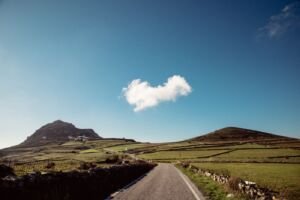 Text –Photos:
Stelios Papadopoulos
If summer is a pilgrimage to Panagia, winter is a pilgrimage to the place.
It's the blue skyline that deepens. The lines that get clearer.
The storminess of the souther whistling in the alleys. The closed windows in the villages and the cloudy light of the cafes. The fishermen's raincoats in the harbour, the armours of the foaming reeds, the wet saltiness on the hair.
It's the fast walking pace with your hands in the pockets. The walk in Agios Fokas.
The skyline empty of ships, the grey of the sea and the black of the storm.
The sun that tilts and caresses the bellies of cats.
The silence of the landscape in Falatado and the rocks embracing the fog.
The sharp norther that penetrates the breath. George's house which is always open in Kalathas and his raki that warms your heart.
It is Drakonisi in white water and the treasures on the beach of Livada. The only sound coming from a TV in the alleys of Cardiani. The mountain tea in Kampos after hiking in the rain. Theresa's hot food. It is the oaks and the mushrooms in Myrsini and the greenery that dresses the plain of Xobourgo.
It's the glassy night with the white tufts that travel among the stars. It is the horizon of Prophet Elias in Marla, which straightens the gaze and redefines the measure.
It's the mystical rhythm that returns. Frugal, deep and kind.
If summer is a festival, winter is a prayer.