Greek Van Gogh
Wearing his done up shirt, a vest and a jacket. Perfectionist and relentless. He loves flowers,gives names to the sheep and he draws his sketches in the coffee houses of Pyrgos. At 25 he creates "the sleeping female figure", at 60 he was sent on errands in the village and he was reborn after his 65. Yannoulis Chalepas : A life from insanity to victory.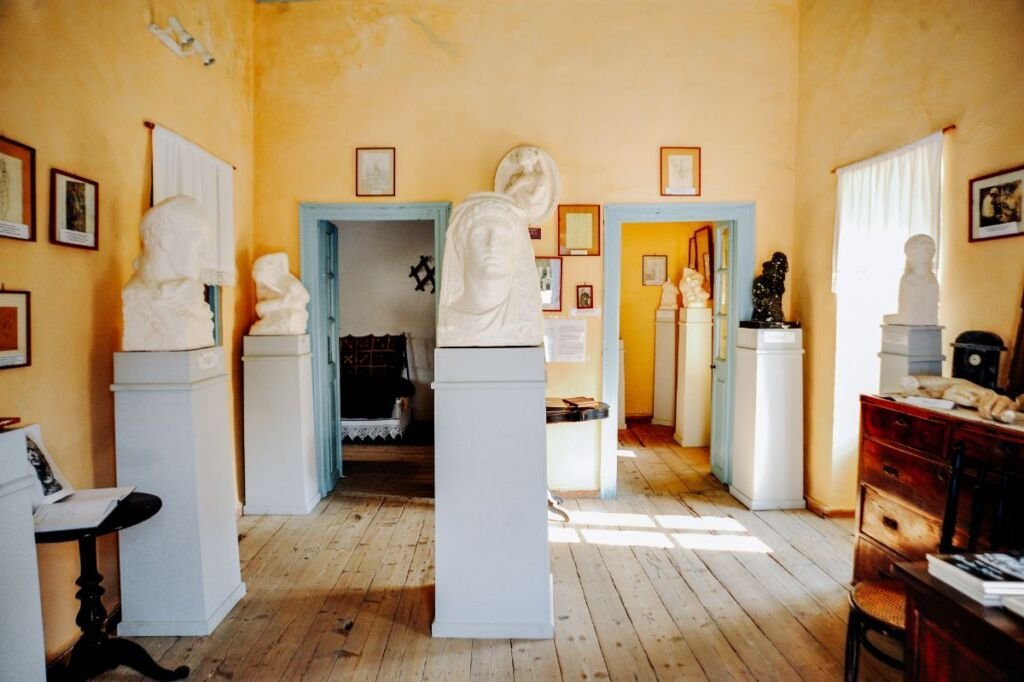 There are just a few artists in the world that have passed from recognition and admiration to contempt and disregard and many years later to triumph again. Yannoulis Chalepas lived his life in the borderline of insanity we present you several known and unknown aspects of his life.
The famous sculptor's life is divided in three different periods. His early years, the "post-sanity period" in the island and the last years of his life in Athens.
1851-1877: Early years and significant work 
A great deal has already been said about Chalepas'date of birth. There were old times and the registry wasn't always valid. Anyway the most legitimate date of birth for Yannoulis Chalepas is considered to be the 24th of August 1851 in Pyrgos, Tinos as the researcher Stratis Doukas suggested. It was a Friday turning to Saturday. The sculpture himself used to say that he was born on a Saturday so we believe that this is the right date. He was member of a family of marble sculptors and when he was born they had already had businesses in Smyrna and Pireaus. So they wanted their son to become the successor of their work and an important salesman. He, having a natural aptitude for sculpture studied at the School of Arts in Athens under Neoclassical sculptor Leonidas Drossis. Then we find him in Munich, under a scholarship of the Panhellenic Holy Foundation of the Evangelistria Tinos, to continue his studies at the Munich Academy of Fine Arts. During his stay at Munich he creates the works : "Satyr playing with Eros" and "Beauty's Tale"for which he is awarded with a prize. He was then only 25 years old. His most famous work of art "sleeping female figure" is created a year later when he was back in Greece. That was the most important landmark in his life and in the history of sculpture, which young Chalepas couldn't recognize and handle. The countdown had begun.
1878-1930: The Mental Hospital and the homecoming to Tinos
The perfectionism, the constant work, the exhaustion and an unrequited love were some of the reasons that made Chalepas suffer a nervous break down in 1877. He began destroying some of his sculptures and made several suicide attempts. As a result he was committed to the mental hospital of Corfu. The work that he's done during that period is destroyed and there's only one left in the basement of the mental hospital, stolen by guard. He goes back to Pyrgos in 1905, 51 years old, because his mother wanted to, after his father's death. Naïve and illiterate, she blames sculpture for her son's illness and prevents him from sculpting, destroying everything he creates. In an extremely fragile psychological state, after his mother's death, he cannot be excepted by the country people so he is sent on errands in the village. His  sensitive soul becomes apparent through his love for flowers and sheep. He rounds up his sheep in Bernadato and gives a different name for each, in his every day life. He goes to the coffee shop, he visits his cousin who lives there and he draws on the tables of the coffee shop, without being recognized by anyone. He doesn't exist as a personality of the art and he spends his days in Exo Meria, when he gains attention of the Tinians in Ysternia and the Sohos family again. That makes us understand that the artist's return trip has already begun.
1930-1938: The recognition and the route to death 
Having received the "Academy's Award for Excellence in Arts and Letters"  in 1927 and encouraged by his niece, Chalepas goes to Athens in 1930. With his genuine talent, despite an almost 40-year break, he lives healthily the eighth decade of his life. Uncle Yannoulis of Pyrgos is Rodin of Greece, as many art personalities claim. He gains glory and recognition all over Greece and get rewarded after so many years of "silence". He dies, being creative, surrounded by his family, in the 15th of September 1938. A chapter of Greek sculpture has ended to start a new page in history, showing many things since then.
Evaluation 
Yannoulis Chalepas was a significant figure of Modern Greek Art. He is such a leading expert in sculpture that in his 25 he was charged with the creation of the most famous sculpture for the grave of the young girl Sophia Afentaki, which can be seen in the First  Cemetery of Athens. It is said that having completed this work his pre-sanity period begins as the sleeping female's legs are slightly bent and if they get unbent, they are larger than the bed Chalepas has made for her. But the most awesome thing about him is the conception of his work. He's art work "Satyr"and "Medea"verify those facts. The first one is made of marble and it is 1.35 m high. It is found in the National Gluptotheque of Greece. The tradition of ancient Greek sculpture comes close to romance and realism. There are 150 works of art rescued but people believe that 30 of them are still missing. "Picasso" of modern Greek sculpture -one of the names given to Chalepas- trying to express his gratitude to the "Tinian's Fraternity" which helped him through difficult times, asked in 1927 his works of art not to be sold by Thomopoulos. He wanted his work to be sent to Tinian's Museum which was to be founded. The man who, when he was 50 years old came out of the mental hospital and when he was 65 was reborn, possibly was way ahead of his time. We may say something different in one of our future features as societies move forward and Art remains always "alive". However to this day even the smallest pebble in Tinos may say that the greatest Greek sculptor lived there. Uncle Yannoulis thank you for your contribution to our county.